We have all the pieces. One more to go. You!
Create Push Notifications in Just a Few Minutes
Have the open rate and click-throughs you've been dreaming about.
Send Push Notifications. Even if you Don't Have an App.
Did you know that push notifications have a 7% higher click rate than email marketing?
Push through Mobile Marketing Clutter!
E-goi makes it a cinch to send hyper personalized messages to your app users based on what they do! You can easily connect with them via notifications and time-limited offers or automatic reminders.
Instant, Non-Intrusive Messaging
Simply create your push message in E-goi (easy as pie with our visual editor) and hit "Send". Each of your app users will then get a notification on their smartphone letting them know they have a new message. No waiting, no hassle, no fuss.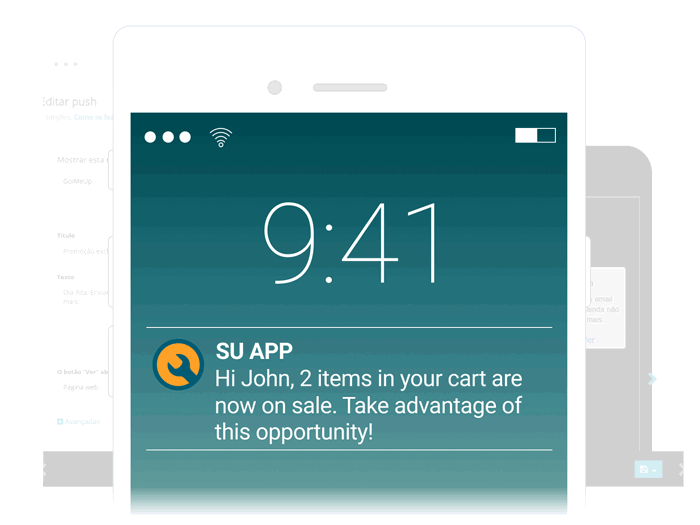 Confirmed opt-in, Engaged Users
Cut through the chatter! Users who install your app not only consent to receive push messages from you, but they've also gone the extra mile to have your brand right there on their mobile at all times.
Behavioural Pics, Videos and Landing Pages
E-goi's push messages show your app users anything you want: images, videos, forms, landing pages… you are in control! You can also trigger those messages based on what each user does (eg clicking through an email, subscribing to your list, abandoning their cart).
Geolocation
Say you'd like to invite customers to come on down to your store if they're around. Or let them know about the best places to visit when arriving to a specific city. E-goi does it automatically for you! Just set your location targeting for each push message and let your user's mobile GPS take it from there.
Integration is a Doddle
Simply ask your app developers to integrate with us. They'll have the whole thing up and running in minutes so you can test it right there and then.
No Hidden Fees, No Surprises
Simply pay as you go or choose from a flat monthly fee based on the number of users of your app. The price doesn't just include push message sending – you can also send out emails, SMS texts and benefit from all other E-goi marketing automation features!
Ready to Communicate with Your App Users? *
30 day satisfaction guarantee or your money back. No credit card necessary.
You don't have an app yet? We've a solution for you!
Qero – Loyalty Platform >>
All this and you only pay:
0,0024€
Per each notification sent
No additional costs, no monthly fee, hassle free.
What is included?
Squeaky-clean List
When first sending your push message, E-goi will auto-purge anyone who no longer uses your app.
Social Media Integration
Adding social sharing buttons to your push message is child's play with E-goi.

Easy Integration
E-goi's push channel comes complete with a developer framework.

Who's Using your App?
E-goi will tell you all about it by cross-referencing your users' email, mobile nr and token.
We're Always Here
Our specialist team is always on hand to help you.
SUPPORT
Available through multiple channels.
SATISFACTION
Our clients are happy clients.
LANGUAGE
We speak your language.