Try in Less than 1 Minute!
Why use E-goi to create and schedule posts on social media?
It's free… Forever!
It's included in any Base or Pro plan and doesn't pay for it anymore! And now also in the new E-goi plan that is free … forever!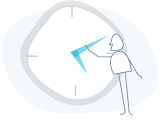 Save Time
It's a practical and simple-to-use tool and already comes with hundreds of dates available to get inspired and create high-impact content.
---
What social networks are available?
Facebook
Did you know that 36% of the world population gets access to information through Facebook? Turn your business into a front page news!

Instagram
81% search for brands, products and services on Instagram. Don't miss any information on your business!
Linkedin
Grow your professional network on the most executive social media. Share specialized content, your participation in events… All through E-goi!
Google My Business
Take the spotlight on the world's most famous search engine! Turn web traffic into business oportunities with only 30 minutes of planning.
---
The Easiest Way to Create and Schedule Posts on Social Networks
Create content simply and effectively and share it on Facebook, Instagram, Twitter, Linkedin and Google My Business.
Practical and Simple to Use
Connect to your Facebook, Instagram, LinkedIn, Twitter and Google My Business account, choose the pages or profiles where you want to share, create your content including emojis and images and schedule or post on time and you're done!
A Source of Inspiration
No ideas for creating content? We have hundreds of dates available like The Pants-Free Day on the Subway or Toilet Day, which you can use to get inspired and create original, high-impact content.
RSS Feed: Automate Your Posts
Save your time and automate your social media posts. You can even generate an RSS Feed only from a specific category or brand of your blog or website (using this plugin) to customize the content of your posts.
Real-Time Results
Track your campaign results: Reach, Impressions, Likes, Comments, Clicks and Shares. Analyzing the behavior of your followers allows you to have data to identify the most impactful content.
Planner: Effective Multichannel Communication
Increase your multichannel strategy and monitor your campaigns's results with our new campaign grouper!
Social Media, Landing Pages, Forms, E-mails… Define your goals and follow the evolution of your metrics!
Ready to Promote Your Business on Social Media?