Why Use E-goi to Create and Schedule Posts on Social Media?
It's free… Forever!
It's included in any Base or Pro plan and doesn't pay for it anymore! And now also in the new E-goi plan that is free … forever!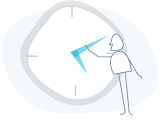 Save Time
It's a practical and simple-to-use tool and already comes with hundreds of dates available to get inspired and create high-impact content.
---
The Easiest Way to Create and Schedule Posts on Social Networks
Create content simply and effectively and share it on Facebook, Linkedin and Twitter.
Practical and Simple to Use
Connect to your Facebook, LinkedIn and Twitter account, choose the pages (Facebook and LinkedIn) or profiles (Twitter) where you want to share, create your content including emojis and images and schedule or post on time and you're done!
A Source of Inspiration
No ideas for creating content? We have hundreds of dates available like The Pants-Free Day on the Subway or Toilet Day, which you can use to get inspired and create original, high-impact content.
Real-Time Results
Track your campaign results: Reach, Impressions, Likes, Comments, Clicks and Shares. Analyzing the behavior of your followers allows you to have data to identify the most impactful content.
Ready to Promote Your Business on Social Media?