Create Smart SMS
Create Smart SMS and learn all about who read your SMS, who took the survey or who grabbed your coupon! Smart SMS messages allow you to combine text, pics, animations, video and audio for the ultimate messaging experience!
The Smart SMS Marketing
Looking for a reliable company that delivers your messages?
Send millions of messages that reach their destination. Don't take risks with low quality routes.
Create SMS that connects to images and videos
For the first time, you'll be able to know who clicked on the SMS, geolocation, if your subscriber use an iPhone or an Android, which interests demonstrated on the Landing Page. Show your products to customers with the images, videos and landing pages you want!
Do you have a website or online shop? Capitalise on E-goi's behaviour tracking feature or use our API to send SMS and trigger actions when your clients access your web page or buy a product.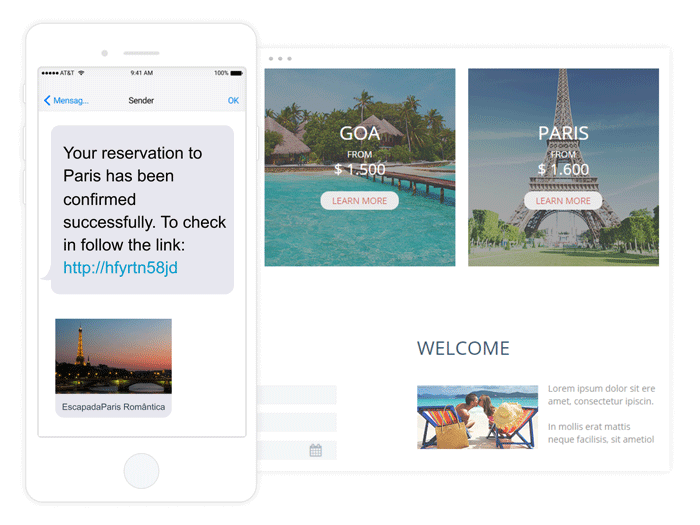 Save Money.
Are you still sending SMS to inactive numbers? E-goi removes them automatically. Already have your contacts' email addresses? So save money and send SMS only to those who didn't open the email!
All for only:
0,04€
Per SMS, Smart SMS or Slingshot text
No setup costs, no monthly fees, no hassle.
Are you looking for a best rate?
Special rates available for large, frequent senders!
What is included?
Message Personalisation
Connect one-on-one with your customers! Use their name or any field in your database as a merge tag for your SMS (which can also include your name as sender)!
Send automatic birthday messages, appointment confirmations, etc. Add SMS to your automation and send notifications.

Find out what clients think about you. Send them a Smart SMS with a satisfaction survey. And why not take the opportunity to ask them to update their profile? It's easy!
URL/FTP Upload
Is your database on your site or FTP server? E-goi can automatically retrieve it whenever needed!

E-goi is child's play to use, but our how-tos and video tutorials will also help get you started in no time!
We're Always Here
Our specialist team is always on hand to help you.
SUPPORT
Available through multiple channels.
SATISFACTION
Our clients are happy clients.
LANGUAGE
We speak your language.
Integration with Hundreds of Apps
The only limit is your imagination.