We have all the pieces. One more to go. You!
Efficient. Save Time.
Everything you need to take your business to the next level. Capture, automate, send, analyse and make an impact on your sales. Gain a lot for very little!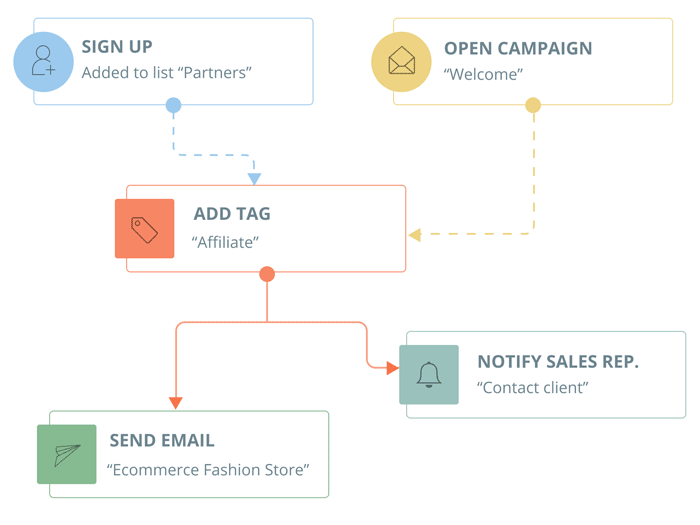 Your Message. Every Channel.
If a subscriber hasn't opened your email, just text them a Smart SMS! You mean it's a really important notice? Go for a push notification! The whole thing is done automatically!
Effective. Deliver the Messages.
Send newsletters securely. Authenticated emails and anti-spam regulations help your emails go straight to the inbox.
We Know Everything. You Will as Well.
Get to know your client, like no one else. Analysing your clients online behaviour enables more effective decision-making for your sales process.
Forms
Ideas for automatic contact capture on your website with customisable templates and ready to use content.
Learn More »
Templates
Check our range of professionally designed newsletter templates, ready to use and customisable with a super simple editor!
Learn More »
Ecommerce
Social Media Integration
Facebook, Twitter and dozens of other social share links can be customised and placed anywhere in your mailing (and not just on the top or bottom).
Personalised Messages
Speak as if you were face-to-face with your clients. You just need to write 'Hi, !fname!', and E-goi automatically converts this to 'Hi Sylvia!', 'Hi John', etc.
Everything is Logged
E-goi is easy to use, but we also have lots of guides, videos and tutorials so that you can learn how to master this tool!
Learn More »
We're Always Here
Our specialist team is always on hand to help you.
Support
Available in all time zones.
Satisfaction
Our clients are happy clients.
Language
We speak your language.
Try in Less than 1 minute!