The Power of Digital for Your Physical Store
The client relationship goes far beyond the basic in-store service.
We walk alongside big brands:
Create Loyalty and Sell More to Each Client
The client hasn't bought in your physical store for 40 days. They accessed your online store, but didn't buy anything. Two days later, if they haven't opened the newsletter and still haven't made the purchase, they are sent an SMS with the same offer.
Do you know that the client has already searched for that product in your online shop? Is there a physical store in that city which has that product in stock, where the client could pass by? Seize the moment and send them a personalised push notification.
The client was browsing product X in your online store for more than 5 minutes and left without buying. They return to the physical store 2 days later and immediately receive an SMS with a 10% discount on product X, valid on purchases over € 50.
Check our range of professionally designed newslettermodels, that are ready to use and customisable with a super simple editor! Compatible with all email readers, as well as smartphone and tablet-friendly.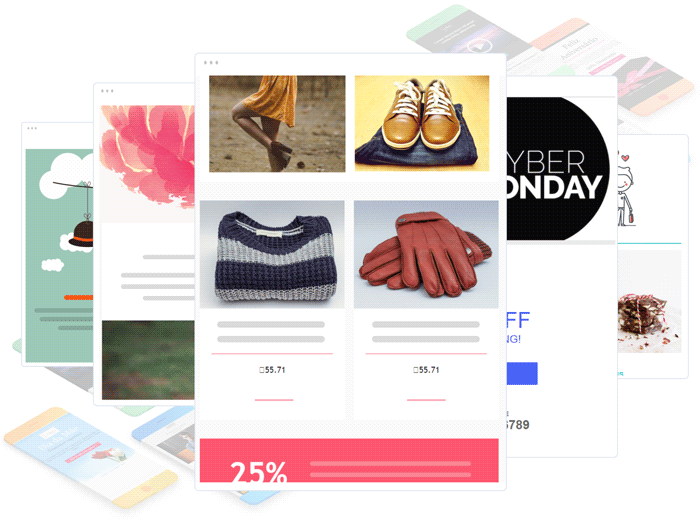 Spoil your Costumers
Who doesn't like being remembered on their birthday? Or receiving promotions in holiday periods? Seize such opportunities to engage with your clients and sell more.
Gain New Clients
How many clients go to your shop daily, without buying? Every time someone visits your shop, it's a potential client. Don't miss the opportunity and offer samples or projects in exchange for sign-up.
The newsletter you sent didn't bring the results you hoped for? It's time to change your strategy. Test several versions of your newsletter and send one that had the best results.
Reward your Best Clients
The client went to your shop to buy, but hasn't been back for years? Create loyalty rewards for your shop, by awarding points or discount vouchers to encourage them to return.
Integration with Hundreds of Apps
The only limit is your imagination.
Free No Obligation 30-Day Trial
If you're not satisfied we'll give you your money back. No credit card necessary.