Show up at the Right Time
Monitor every client's journey through your website and flag their interests. If a client visits the Port wine section, send them an automatic campaign with the same products.
More Confidence in Online Sales
Order status updates, stock shortages or order deliveries are some examples of messages that should reach their destination. E-goi guarantees delivery of these messages with total transparency.
Products that the Client Wants
Segment your audience, define your audience profile and improve the relevance of your content. From signup to sale, offer products that the client really wants and sell more!
Encourage Repeat Sales
Finding it hard to increase customer loyalty? Suggest a complimentary product, immediately after the purchase, and increase your sales through upselling!
Ever-Present
Having trouble grabbing your client's attention? If they haven't opened the email, send an SMS. Is it an important message? Use a push notification or voice call! Totally automated!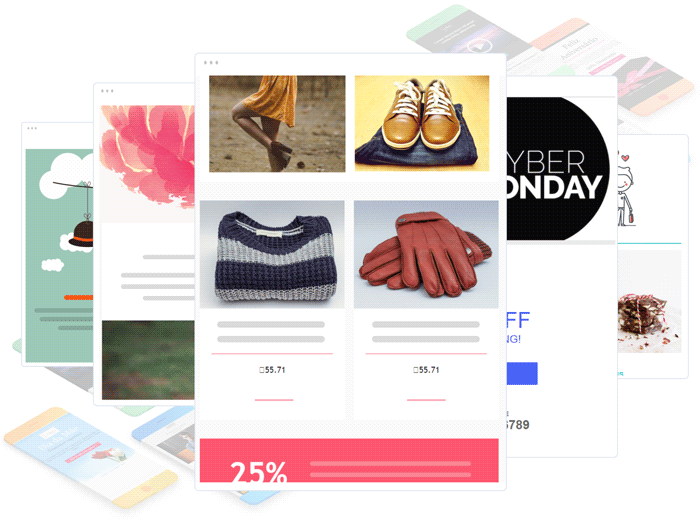 Communicate with Style
Check our range of professionally designed newsletter models, ready to use and customisable with a super simple editor! Compatible with all email readers, as well as smartphone and tablet-friendly.
Loyalty Programme
Create special communication campaigns for your most valued clients. E-goi offers all the information you need (e.g. members purchases, total spend, etc.)
Listen to your Clients
Send follow-up questionnaires the day after their first purchase to ask them about their experience. Feedback is valuable to avoid dissatisfaction and improve your service.
Learn More »
Celebrate with Your Client
Who doesn't like being remembered on their birthday? Or receiving promotions in holiday periods? Seize such opportunities to engage with your clients and sell more.
Measure Results
The newsletter you sent didn't bring the results you hoped for? Time to change your strategy. Test several versions of your newsletter and send one that had the best results.
Learn More »
Highlight what You Want to Sell
Want to make that promotional campaign more visible to your website visitors? Highlight your message with a pop-up form and capture new leads while you grow your audience.
Learn More »
Social Media
Boost the word of mouth effect. Encourage your own clients and subscribers to share your newsletter with all their friends. With E-goi, you can place share buttons anywhere in your mailing or Smart SMS.
Case Study The Florist
Learn how Marketing Automation has benefited a traditional business.
Free No Obligation 30-Day Trial
If you're not satisfied we'll give you your money back. No credit card necessary.